Lodz, Poland
EXPO 2022 : THE CITY OF LODZ NOMINATED
As part of the bid entered by the city of Lodz (Poland) in Expo 2022 on the theme of urban revitalization, DELOITTE Consulting Poland and SUD Architectes were selected for the urban development and design of exhibition buildings on a 25-ha site, in the heart of the city, unique for an international exhibition.
The city of Lodz was one of 4 candidates selected by the International Exhibition Bureau. The city that will host EXPO 2022 will be announced in November 2017, after voting by the 169 member countries of the IEB.
The feasibility study includes the urban and landscape design of the exhibition area, overall development of the permanent and temporary buildings in connection with the theme of the exhibition, as well as logistics areas and service locations.
The conservation of most of the exhibition buildings (90%) and their use for new functions will revitalize an entire downtown area completing a vast urban revitalization project undertaken by the City of Lodz, and SUD Polska is also involved.
With Manufaktura in 2006 (the main industrial site in the city center was transformed into mixed use, and several residential neighborhoods were revitalized…), this project was the second large-scale program for the City of Lodz.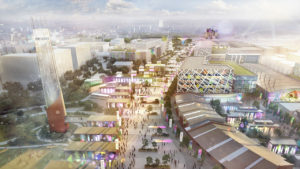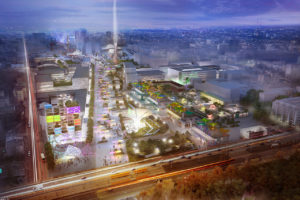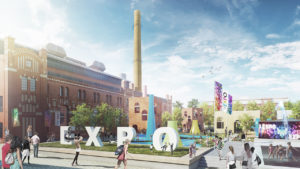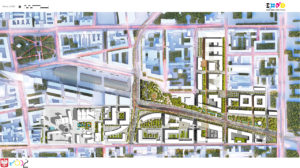 Client : City of Lodz, Deloitte Consulting Poland
Architect : SUD Architectes / Groupe Arching
Site surface area : 25 ha
Arching is an independent French group of 300 persons dedicated to the global design of buildings and urban spaces. Based in Lyon, Paris, Warsaw, Beirut, Hong Kong and Shanghai, we offer a range of services that combine the creativity of architecture with the technicality of engineering.